Bcom 1st Year Notes for all subjects with chapter wise
Bcom 1st Year Notes: – In this post, you will get all the notes of BCOM 1st year, this post has all the notes for you, share this post with all your friends and all your groups so that every student of BCOM can see this post and comment that You liked reading this post.
Bcom 1st Year all subject notes with chapter wise. Bcom 1st semester notes and Bcom 2nd semester notes chapter-wise. please share this article with your all friends and your all groups. – Thanks.
Bcom 1st Year Notes
Business communication
effective listening
Business Economics
Business environment
Business Statistics
The formula of the Business statistics https://sdak24.com/bcom-1st-year-business-statistics-formula-notes/
Get Video Lecture: –
Business Regulatory Framework
स्पष्ट रूप से व्यर्थ घोषित ठहराव (Agreements Expressly Declared as void)
हानि रक्षा तथा प्रत्याभूति अनुबन्ध (Contracts of indemnity and Guarantee)
प्रतिज्ञा – पत्र एंव विनिमय- विपत्र (Promissory Notes and bills of Exchange)
उपभोक्ता संरक्षण अधिनियम, 1986 (Consumer Protection Act, 1986)
विदेशी विनिमय प्रबंध अधिनियम, 2000 [Foreign Exchange Management Act, (FEMA)
Financial Accounting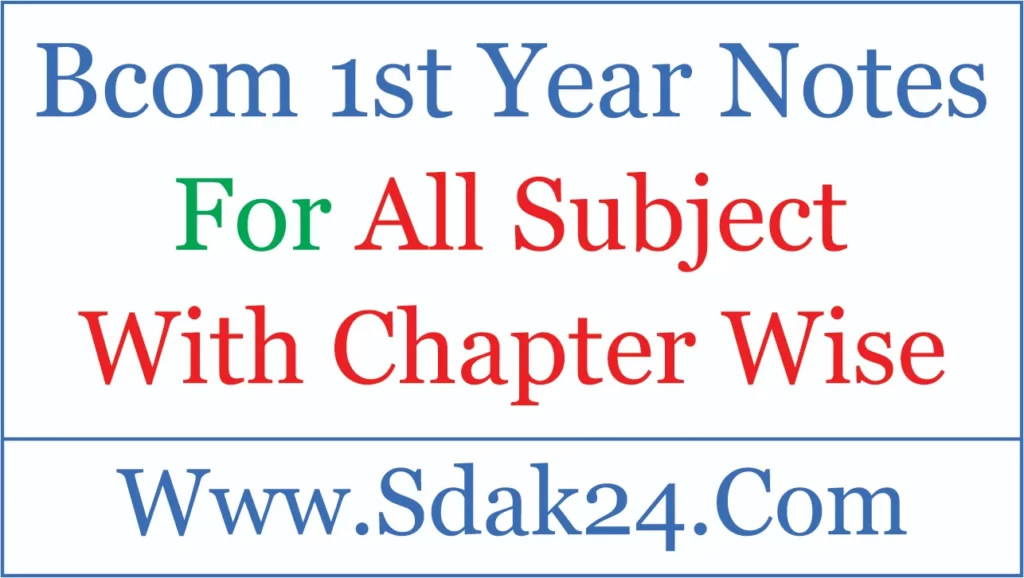 ---