Bcom 1st Year Business Letters and Memo Formats
Bcom 1st Year Business Letters and Memo Formats:-This post uploaded by sachin daksh. and in this post we share you bcom notes. its is very easily to learn notes. all this post is very important and helpful for all b.com student whose have bcom. in this post we are covered by all university syllabus. this is very helpful for Bcom, BCA, MCA, BBA, MBA, Mcom.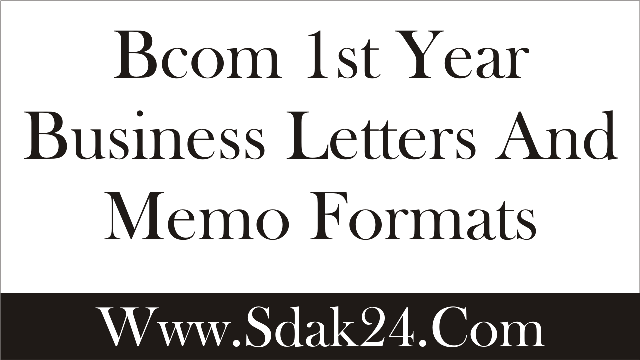 Business Letters and Memo Formats
Q.'26. Discuss the different standard parts of a business letter. Give a sample of a standard business letter,
or
discuss the essentials of an effective business letter.
Explain the structure of a business letter.
Ans.
MEANING OF BUSINESS LETTER
Letters related with business affairs are termed as business letters. These letters help the businessman to build new relations and maintain the existing relations. A businessman writes letters to
its customers, employees, other firms, associate concerns, credit agencies, government departments etc. These letters are written to achieve a definite purpose such as selling a product, making an en
quiry, seeking information or advice, creating goodwill etc.
Business letters are important part of business communication as they are most economic and effective way of retaining information. In the modern world of technological advancement, there are many modern way of communication like fax, email etc., yet the importance of letters remain there. Business letters are one of the best mean to convey accurate as well as detailed message.
According to Herbert Kessan,
"Letters written for business affairs is known as business letters."            
Essential elements of a Effective Business Letter: Letter writing is an art and mastery over this art requires practice. The language, matter and expression of the letter must be convincing to the reader. If the letter is an effective one, the reader will be ready to act upon it. The following essentials should be observed while writing business letters:
(1) write naturally: Letter writing should be as natural as the oral communication. With the help of natural writing one can able to convey message in the same sense and spirit as he wants. But it should also be remembered that message is written from intellect and not from emotions.
(2) Take care of language: All the facts and figures must be written in the simplest possible words. There is no scope for ambiguity and flowery language in an effective letter. Therefore vague,
technical and undesirable phrases should be avoided.
(3) Preciseness: The letter should be written in such a way which expresses the writer's message in a clear way and in as few words as possible. In the shortest time; the receiver must know what
the communicator wants to convey. But never seek brevity at the cost of clearness.
(4) Accuracy: A good letter has to be correct in every respect
such as contents, layout, spellings, grammar etc. Incorrect language spoils. The message distracts the reader's attention and harms the image of the sender. Therefore, transmitter should be sure that he is
transmitting correct facts in correct language. Moreover, the transmitter should send his message at the right time and in correct style.
(5) Courtesy: The language of the letter must be polite and appealing. Courtesy is like the oil which removes friction; it makes life smooth and helps to win friends. It costs us nothing but much is
gained by it. It help to maintain good relations and to increase the number of customers.
(6) Completeness : Completeness of facts is necessary in business communication. Incomplete message lead to irritation and wrong actions. A letter is completed when it contains all the necessary facts and information for the particular objective or situation. For example, in a purchase order letter, quantity, quality, size of the goods, mode of dispatch, date, mode of payment etc. should be
specified in a clear way.
(7) Consideration or You Attitude: Consideration for the reader's interests, needs and desires is known as the 'you attitude' in the business world. When a reader receives a letter, he assesses how
it affects him and his business and what action he needs to take on it. A letter written with 'you attitude' will transmit the message quickly to the reader and evoke the desired response. Therefore, the
writer should not forget the reader's point of view in business letter.
(8) Persuasion: Business letter should be written in a persuasive and tactful manner. The subject matter must be put in such a manner that the reader may be ready to act upon it.
(9) Conversation style: An effective letter should be like 'a dialogue with the reader. It should be written in a friendly and conversational style. Dull and stiff style has no place in good letters.
(10) Clarity of the massage: The message of the letter should be clear and self-explanatory as everybody may understand its meaning clearly and easily. The letter written must be clear both
in thought and expression.

PARTS OR STRUCTURE OF A BUSINESS LETTER
Business letter is divided in several parts and each part of it contains specific significance. This part should be well organized and consistent in the same way as different part of our body is interdependent and interrelated with each other. Usually, the business letters have the following parts :    (1) Heading, (2) Date, (3) Reference, (4) Inside Address, (5) Salutation, (6) Subject line, (7) Body of the letter or message, (8) Complimentary clause, (9) Signature, (10) Enclosure.
(1) Heading: The heading of a letter consists of the printed letter heads, mentioning the name of the firm, its address, telephonic and E-mail address, symbols and trademarks. Generally,
the name and the address of the company are given in the centre and its telephone, fax, E-mail number are mentioned on left or right side or both sides of the address. A specimen of letter head is given below : Telephone :                                                      Sumit Traders                                                                    Fax :
Telegram :                                                           Stockist and Distributors                                               E-mail :
of Rubber Chemicals
39/7, Naya Bazar, Delhi 110 006
(2) Date : Every business letter must carry the date. It enables quick reference in future and help in prompt action and orderly filing. Sometimes, it assists in legal proceedings also. Generally the
date is written at the right hand corner just below the lowest part of letter head. Date can be written in several ways such as :
14 January, 2007 (English Method)
January 14, 2007 (Americal Method)
(3) Reference : Reference number indicates the file number, the department to which the file has to go, the number of the letter and the year. It serves to identify the department from vulich the letter is being sent or the particular file in which copy of the letter is to be found. Reference number is given on the left side below heading. It is usually written as :
Reference : 09/Adm./07
Or.
Reference: 17/order/07
In the reference, '09' denotes the number of the letter; Adm. denotes that the letter is originated from the Administration department and 07 stands for the year 2007.
(4) Inside Address: This part of the letter shows the name and the address of the person or firm to whom the letter has been addressed. It is given below the date line at left margin. It helps the
dispatcher to deliver the letter. Inside address must be written exactly as it is written on the envelope. It contains the name, title or department (if any), mailing address or pin code of the receiver.
(5) Salutation: Below the inside address, complementary greeting, which is called 'salutation' is written. This salutation depends 'upon the writer's relationship with the recipient of such letter. Some common forms of salutation are as follows:
Sir or Madam: Used in case of more formal relations.
Dear Sir or Dear Madam: This is most commonly used salutation for business letters.
Dear Mr. Suresh Agarwal
Or
Dear Ms. Anita:                 Used when there is close relationship between two parties.
(6) Subject line: It is customary to mention the subject to which the letter relates in between the salutation and the body of the letter. It help a reader to in understanding the contents of letter at a
glance.
Subject: Remittance of advance
Subject: Inquiry regarding education loan.
(7) Body of a letter: This is the most important part of the letter as it contains the message. The material in this part should be arranged and organized carefully. The subject body of a letter is
usually divided into three parts:
(1) Opening or introductory paragraph.
(2) Main part or important message.
(3) Closing paragraph deals with conclusions.
The opening paragraph usually deals with reference to earlier correspondence. Main part of the message is written .in the second part. Closing part concludes the message in summary and inspires the
receiver to act upon it.
(8) Complimentary Close: As a letter starts with a respectable salutation, must end with respectable compliments. This is conventional and polite way of ending the letter. The commonly used
complimentary closing expressions are as follows:
Yours faithfully, yours sincerely
truly yours,
cordially yours
sincerely yours, yours ever etc…
(9) Signature: Letter is assumed completed when signature is duly made by the writer thereupon. Liability of letter is determined with the signatory person. Sufficient space is left, generally five
spaces below the complimentary close, for signature. The signature should be written in hand by the writer of the letter. The signature should be followed by the name of the signatory in block letters.
(10) Enclosures: All additional papers, documents, invoice cheque/draft etc. attached with a letter is termed as enclosures. A reference of enclosures is given on left hand side just below where
the letter ends. If more than one enclosure is being attached, the same should be serially numbered and mentioned in the letter.
SPECIMEN FORM OF A LETTER PARTS
(1) Head Address
(2) Date Line
(3) Reference
(4) Inside Address
………………….
………………….
………………….
…………………
(5) Subject Line
(6) Salutation Line
(7) Body of the Letter. …………………………………………………………………………………………………………………………..
……………………………………………………………………………………………………………………………………………………………….
………………………………………………………………………………………………………………………………………………………………..
(8)Complimentary Close
(9) Signature
(Name)
(10) Enclosures
(1)………….
(2)………….
(3)………….
Short Answer Questions
Q.1. Give a specimen of a standard business letter.
Ans. See page 95.
Q.2. Give a short note on the structure and language of a business letter.
Ans. See page 93, 94 and 95.
Q.3. Give suggestions for making business letters effective.
Ans. See page 91 and 92.
Q.4. what are the essentials of a good business letter.
Ans. See page 91 and 92.
Q.5. what do you understand by memorandum? How does it differed from a letter?    
Ans.
MEANING OF MEMORANDUM
Memo or Memorandum is primarily a written message exchanged within the organization in their
Memos are conferment form of writing as the message is written without any effigy. It is the cheapest me are of communication among employees. The message mentioned on a memo can also be preserved for be written. Most organizations use printed memo with date, name of sender, name Recipient and space for subject. A standard format of memo is given below:
                Re K. Industries               
File…………..
To…….                                                                                                                                                                   Date..…………
From……
Subject……………………………………………………………………………………………………………………………………
DIFFERENCE BETWEEN LETTERS AND MEMOS
Letter
Memo
1.
Letter is written to persons Memo is written to the persons outside the organization.
Memo is written to the person working within the organization.
2.
Generally, language of the letters is formal.
There is no place of formality in the language of a memo.
3.
Salutation and complimentary close have a. great importance in are avoided in case of letters.
Salvation or complimentary closes are avoided in case of memos.
4.
Special care should be taken while There is no need of special care drafting letters.
There is no need of special care while writing memos.
5.
Generally, the language of the Memos are not supposed to be letter is polite and appealing.
Memos are not supposed to be courteous. There are written in straight way.
6.
Letters need explanation and Memos are concerned with work broad interpretation.
Memos are concerned with work information. These are written in specific and concede way.
Q.6. Explain the functions or importance of business letters.
Ans. Business letters are highly useful in introducing trade relations and promoting business transactions. They provide inexpensive and convenient mean of communication without personal
contact, provide evidence of transaction and help in creating good impression and goodwill. Main functions or importance of business letters can be summarized as follows:
(1) Widen contracts: It is not possible for a business firm to send its representatives to each and every place of its connections. But it can approach all persons through letters. Thus, letters help the business to widen the area of operation.
(2) Provide Record and Reference: Letters provide permanent record of dealings with customers, suppliers and other associate parties. These can be preserved for future reference also.
(3) Evidence of contracts: Business letters act as a valid document and evidence of the contracts between the two parties. These can be used as documentary evidence in a court of law in
case of disputes.
(4) Building Goodwill: A good business letter helps to make a good image of the business. It creates a Positive image among the readers and win friendliness of the other parties.
(5) Exchange of information: With the help of letters, a business firm can exchange information of varied type with different parties. A business firm may send a letter inquiring about
the credit status of a customer or it may send reply to such an inquiry from other firms
---
Follow me at social plate Form
Related Post Link:-
New Post Link:-
Basic form of business communication
Bcom 1st Year Business Letters and Memo Formats