Bcom 3rd Year Notes for all subject with chapter wise
Bcom 3rd Year Notes: – In this post, you will get all the notes of BCOM 2nd year, this post has all the notes for you, share this post with all your friends and all your groups so that every student of BCOM can see this post and comment that You liked reading this post.
Bcom 2nd Year all subject notes with chapter wise. Bcom 3rd semester notes and Bcom 4th semester notes chapter-wise. please share this article with your all friends and your all groups. – Thanks.
Bcom 3rd Year Notes for all subject with chapter wise
CORPORATE ACCOUNTING NOTES…
NOTE:- update coming soon.. please wait…
AUDITING NOTES…
MONEY AND FINANCIAL SYSTEM NOTES…
Money and Functions of Money
Money Supply
Role and Kinds of Finance
Financial System
Capital Market and Financial Intermediaries
Commercial Banks
Structure of Commercial System in India
Regional Rural Banks
Cooperative Banking in India
Process of Credit Creation
Development Banks
Non Banking Financial Institutions
Unregulated Credit Market in India
The Reserve Bank of India
Monetary Policy
INFORMATION TECHNOLOGY AND ITS APPLICATION IN BUSINESS NOTES…
FINANCIAL MANAGEMENT NOTES…
01. Financial Management An Introduction Bcom Notes
02. Financial Planning Bcom Notes
03. Capitalisation Bcom Notes
04. Capital Structure Bcom Notes
05. Theories of Capital Structure Bcom Notes
06. Leverage Bcom Notes
07. Dividend Policy Bcom Notes
08. Management of Working Capital Bcom Notes
09. Management of Cash Bcom Notes
10. Management of Receivables Bcom Notes
11. Inventory Management Bcom Notes
12. Financial Statements Bcom Notes
13.Ratio Analysis Bcom Notes
14. Funds Flow Statement Bcom Notes
15. Cash Flow Statement Bcom Notes
PRINCIPAL OF MARKETING NOTES…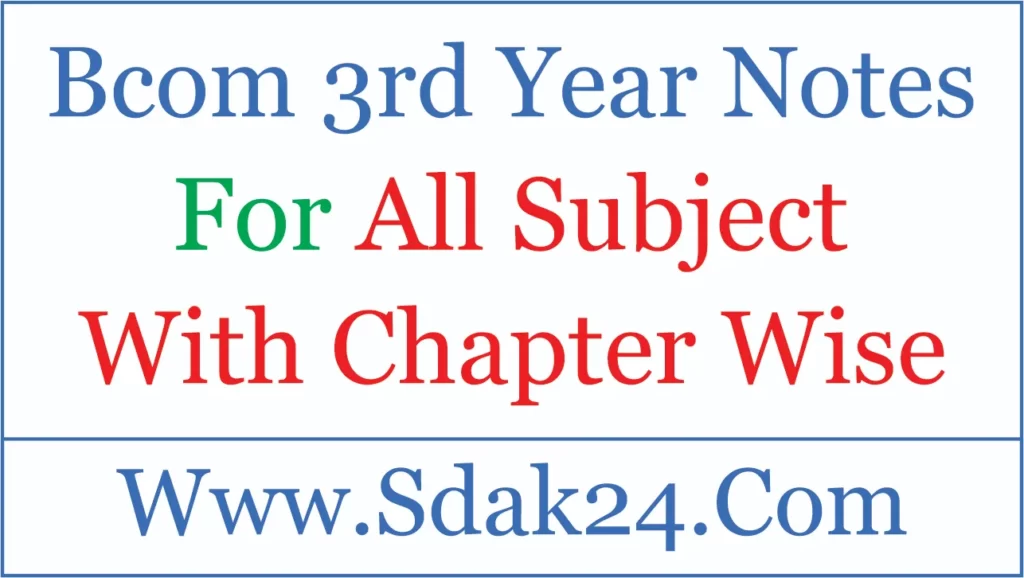 ---