Mcom Financial Management Notes
Mcom Financial Management Notes:- In this post, we want to tell you that, mcom 1st year financial management all units introduction, capital budgeting decisions, cost of capital and financing decisions, working capital decisions, dividend decisions,
Unit 1 Introduction Financial Management Mcom Notes
Unit 2 Capital Budgeting Decisions Mcom Notes
Unit 3 Cost of Capital and Financing Decisions Mcom Notes
Unit 4 Working Capital Decisions: Mcom Notes
Unit 5 Dividend Decisions Notes
Covered Syllabus:
Unit 1: Introduction of Financial Management: Meaning, Nature, Scope and Objectives of Financial Management; Finance Functions; Time Value of Money; Risk and Return;
Unit 2: Capital Budgeting Decisions: Nature, Importance and Process of Capital Budgeting; Techniques – Pay Back Method, Discounted Pay-Back Method; ARR Method; NPV Method; IRR Method; Terminal Value Method; Capital Method; Capital Rationing and Risk Analysis in Capital Budgeting.
Unit 3: Cost of Capital and Financing Decisions: Cost of Long Term Financing; Estimation of Components of Cost of Capital; Methods of Calculating Cose of Debt, Cost of Preference Shares, Cost of Equity, Cost of Retained Earnings, Weighted Average cost of Capital and Marginal Cost of Capital and Marginal Cost of Capital, Theories of Capital Structure, Leverage-Measurement and Effects on Profit; Determinants of Capital Structure.
Unit 4: Working Capital Decisions: Concept of Working Capital; Operating Cycle and Cash Cycles; Risk-Return Trade off; Sources of Short Term Fiance; Working Capital Estimation.
Unit 5: Dividend Decisions: Issues in Dividend Decisions; Walter's Valuation Model, Gordon's Growth Model, Capital Asset Pricing Model, Modigliani and Miller Theory, Cash and Stock Dividends, Dividend Policy and Determinants of Divided.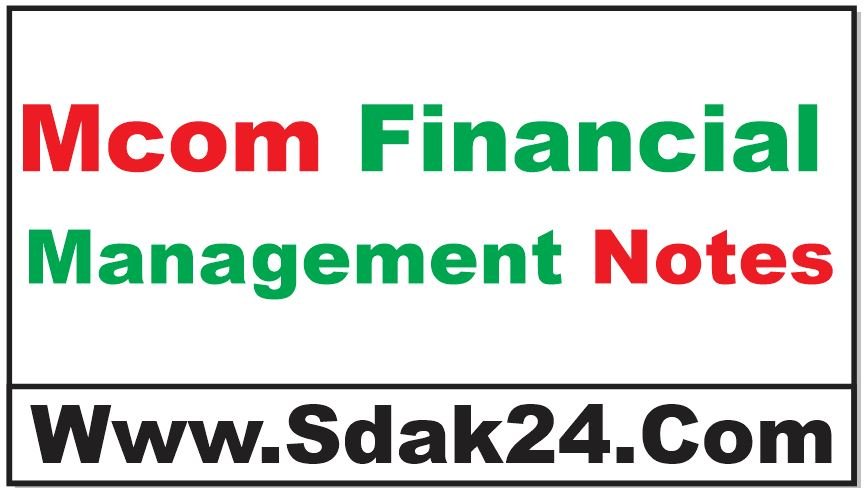 Dividend Decisions Mcom Notes
---