After Sales Service Bcom Notes
After Sales Service Bcom Notes:- In this post, we will give you notes of Principal of Marketing of BCom 3rd year English and Hindi, Product Life Cycle Bcom Notes Hindi and English.
Notes:- This Post Already Available in Hindi and English language.
Click Here to view:- English Version
विक्रयोपरान्त सेवा (After-Sales Service)
विक्रयोपरान्त सेवाओं का अर्थ (Meaning of After-Sales Services)
वर्तमान समय में विपणन क्रियाओं का आधार उपभोक्ताओं को सदैव सन्तुष्ट रखना है जिसके लिए उनको विक्रय के बाद सेवा प्रदान की जाती है जिसमें मुफ्त मरम्मत, वस्तु की मुफ्त सफाई या समय से पूर्व वस्तु के खराब होने पर उसको बदलने या मूल्य वापिस करने की सुविधा शामिल है। विक्रय उपरान्त सेवा की व्याख्या विक्रय नीति के अन्तर्गत की जाती है। इस प्रकार विक्रय उपरान्त सेवा से आशय है कि वह सेवा जो ग्राहक को विक्रेता के द्वारा विक्रय के बाद प्रदान की जाती है। साधारणतया यह सेवा मुफ्त होती है परन्तु कुछ विक्रेता इसको रियायती मूल्य पर देते हैं। जब कोई विक्रेता इस प्रकार की नीति अपनाता है तो उसे विक्रय के उपरान्त सेवा की नीति कहते हैं। इस सेवा को गारण्टी सेवा भी कहते हैं जो कि लिखित होती है। भारत देश में इस प्रकार की सेवा रेडियो, टेलीविजन, पंखे, सिलाई की मशीन, स्कूटर, रेफ्रीजरेटर एवं मोटर कार आदि के सम्बन्ध में प्रदान की जाती है।
विक्रयोपरान्त सेवा का महत्त्व (Importance of After-Sales Services)
(अ) ग्राहकों की दृष्टि से महत्त्व : (1) विक्रयोपरान्त सेवाओं से ग्राहकों को सन्तुष्टि प्राप्त होती है। (2) विक्रयो परान्त सेवाओं से ग्राहकों की उत्पाद तथा निर्माता दोनों के प्रति विश्वास में वृद्धि होती है। (3) यदि खरीदा हुआ उत्पाद खराब हो जाता है तो विक्रयोपरान्त सेवाओं में उसको बदले जाने/निःशुल्क मरम्मत की सुविधाएँ आदि विद्यमान रहती है। (4) विक्रयोपरान्त सेवाएँ ग्राहकों को क्रय करने में लगने वाले समय की बचत करती है जैसे- ग्राहक टाटा कम्पनी द्वारा निर्मित कोई भी उत्पाद केवल टाटा के नाम से ही खरीदने के लिये तैयार हो जाता है।
(ब) विक्रेताओं की दृष्टि से महत्त्व : (1) विक्रयोपरान्त सेवाएँ प्रदान किये जाने से ग्राहकों की निगाह में विक्रेताओं/निर्माताओं की ख्याति में वृद्धि होती है।
(2) सामान्यतः उत्पाद के विक्रय में विक्रेता का काफी समय व्यतीत होता है। किन्तु विक्रयोपरान्त सेवाओं के परिणामस्वरूप विक्रय-वार्तालाप सरल, सुविधाजनक एवं शीघ्र समाप्त हो जाता है।
(3) विक्रयोपरान्त सेवाओं के कारण विक्रेताओं/निर्माताओं के विक्रय क्षेत्र में निरन्तर वृद्धि होती है। बाजार का क्षेत्र राष्ट्रीय से अन्तर्राष्ट्रीय रूप धारण कर लेता है।
(4) विक्रयोपरान्त सेवाएँ ग्राहकों के विश्वास को अर्जित करने में सरलता एवं सुविधा प्रदान करती हैं। यदि उत्पाद दूषित निकलता है तो वह उसे सरलता से बदल सकता है अथवा निःशुल्क/रियायती दरों पर उसकी मरम्मत करा सकता है। (5) कुछ उत्पाद ऐसे होते हैं जिनके विक्रय हेतु विक्रयोपरान्त सेवाएँ आवश्यक है, जैसे-स्कूटर, कार, ट्रक, घरेलू उपयोग के यन्त्र, मशीनें, कपड़ा सीने की मशीन, ट्रैक्टर आदि।
---
English Version
After-Sale Service
MEANING OF AFTER-SALE SERVICE
After-Sales service is an important aspect of a marketing transaction. Such service includes repairs, spareparts and smooth maintenance of the product at reasonable charge after the product has been sold and is being used by the customer. Such service is necessary in case of costly and durable products example: refrigerator, washing machine, microwave, television, automobile, industrial equipment, air-conditioner, radio, tape recorder, complex machinery and other domestic appliances. The need for such services arises to prevent dissatisfaction, frustration and ill-will among consumers against the manufacturer's product they are using : as far as the quality of its working is concerned. During the guarantee period, after-sale service is provided free of charge which includes free services for repairs and replacement of defective parts. After the guarantee period, a small charge is made from the customer to hold on the customers for future.
WAYS OF PROVIDING AFTER-SALE SERVICE
Manufacturer can provide after-sale service in the following alternate ways:
by directly sending the staff for repair and maintenance the of product as and when it is out of order.
by developing company owned service centres which repair consumer goods.
by placing greater emphasis on product design: through more testing, research and quality control than before.
by making arrangements with distributors and dealers to provide the necessary service. The manufacturer may upgrade the efficiency and reliability of dealers through appropriate training programmes.
the manufacturer may leave it to independent service specialised firms to promote after-sale service.
ROLE/IMPORTANCE/BENEFITS OF AFTER-SALES SERVICE
The various benefits of after-sales service are as follows:
If the product has good after-sale service, the buyer can buy it immediately.
It can build up and maintain seller's goodwill.
Mass distribution of costly consumer durables is possible through after-sale service and consumer credit e.g.. installment sale.
Free service during the guarantee period is the best selling point in the sale of machinery and appliances.
Sales campaign will achieve remarkable success if after-sales service is included in sales promotion.
Complaints and grievances regarding servicing and maintenance will be promptly and efficiently dealt with by the seller. Customer satisfaction is the master-key to promote sales and growth.
To conclude, after-sales service is an important aspect of a marketing transaction. It is said:
Product + Service = Competitive Advantage.
However, in India, lack of adequate service: after-sale is a real challenge to marketers from consumerism.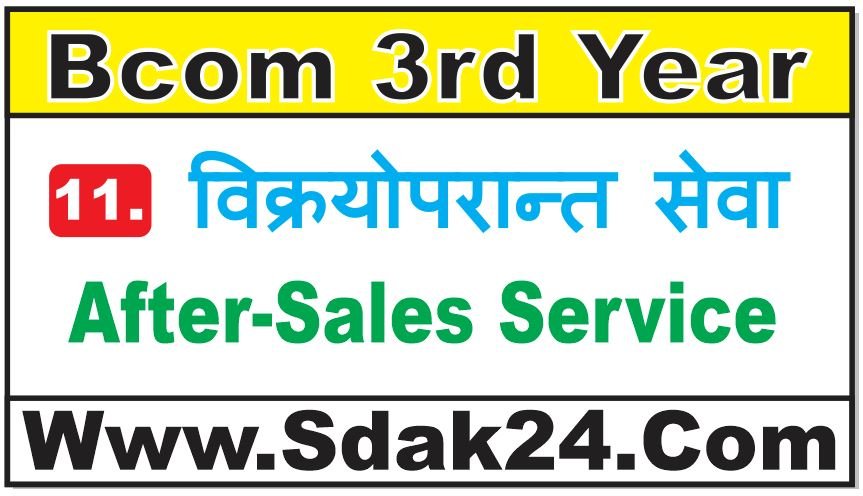 Related Post:-
Previous>>>
Next Post>>>
---