UP TGT PGT All Information Study Material Sample Model Question Answer Papers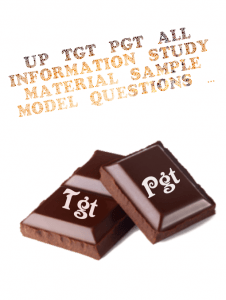 In this post you can find Uttar Pradesh Trainee Graduate Teachers (TGT) and Post Graduate Teachers(PGT) Topic wise Study Material, Sample Papers, Previous Year Question Papers and Most likely Sample Question Answers. Here all this you can find in this UP TGT PGT Study Material Sample Model Question Answer Papers post.
ABOUT THE TGT PGT :
All the examinations of TGT and PGT are organized by Uttar Pradesh Secondary Education Service Selection Board. UPSESSB is responsible for the recruitment of UP TGT / PGT teacher. Secondary Education Services Selection Board All women and men (who have become teachers Interested) is a trained graduate teacher posts issued an official notification to invite for vacancies for Graduate Teacher. All teachers  And this golden opportunity is for the students to become their careers in the field of education.
Age limit of TGT PGT :
Age limit for  According to government rules age of the candidate :
The maximum age limit for the general category candidates is 40 years.
The maximum age limit is 43 years for the students of other backward growth.
The maximum age limit for students belonging to SC / ST category is 45 years.
The maximum age limit for Divyanagiri is 47 years.
UP TGT PGT EXAM PATTERN 
UP TGT PGT exam is complete in two phases.
WRITTEN EXAM
PERSONAL INTERVIEW
UP TGT PGT All Information Study Material Sample Model Question Answer Papers
Details of written examination :
Different examinations are organized for candidates of each subject. There are a total of 125 multiple choice questions in this examination. Each question has 4 options and the maximum marks is 425. In which there is no negative marks . Maximum time for this question paper is 2 hours
 



CITIZENSHIP OF TGT PGT :
Should be a citizen of India. Or refugees coming to settle in India before January 1, 1962. You can also take these exams.
TGT PGT EDUCATION QUALIFICATIONTGT : 
TGT : Candidates must have BECHELOR DIGREE (GRADUATION) to take the exams. And teacher certificates such as B.ed, M.ed . It is mandatory to have a BTC or any other teacher.

PGT: Postgraduation (postgraduate degree) is required for the candidate to take pgt examination.
Selection Procedure for Uttar Pradesh TGT PGT:
Written Examination: TGT / PGT, because it is a state level examination, so both of them are examined together, so we get the same question paper which we have at the time of application Be picked. It is mandatory to have 85% in both TGT / PGT in Written Examination.
EXRTA QUALIFICATION: EXRTA QUALIFICATION like B.ed, BTC, M.ed etc   and 5% PhD / M.Phil – 2%, M.D. -2%, BEd -1%
INTERVIEW TEST: Candidates must obtain 10% marks in personal interview.
 ELIGIBILITY CRITERIA OF TGT PGT.
TGT: TGT means Trained Graduate Teacher. In your words, it is necessary to have the yogi of that work to do any less. Similarly, after TGT, the person becomes eligible to teach from class 9 to class 10.
PGT: PGT means Post Graduate Teacher. And the TGT person gets qualified to teach from Class- 11  to Class-12.
Follow Us on Social Platforms to get Updated : twiter,  facebook, Google Plus